Jetzt 2
Light source
LED 6 watts, 470 lm, 3000 K, CRI 90. With built-in LED. The light source is not exchangeable by the user, but by an electrician.
Technical data
For 110–240 volts, secondary 5 volts. With plug-in transformer. Dimmable.
Dimensions
Height 40 cm, width 30 cm, cable length 200 cm.
More info
First produced in December 2015.
Colours
Black, blue or silver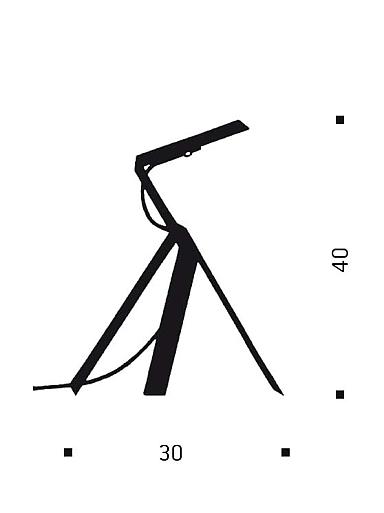 ​Axel Schmid about the original design in 2009: "The table lamp Jetzt uses the world's first high voltage LED, so there's no need for a transformer. To be able to run these without housing, the LEDs are cast into transparent plastic. This light block is glued to an anodized aluminum structure, that also guarantees a sufficient cooling effect. The structure is lasered out of a rectangular sheet of aluminium, so there's no waste in material. Three bending operations define the shape."
Due to the development of LED technology, the new version uses low-voltage LEDs.